I am very excited to welcome Kerry Drewery to the blog today. Kerry is the author of two wonderful young adult/crossover novels, both published by Harper Collins Children's, A Brighter Fear and A Dream of Lights (If you haven't read them what are you waiting for - they are utterly brilliant!) and Cell 7 which will be published by HotKey Books in September 2016. Before we get to the interview itself here's what Kerry has to say about herself:
Kerry Drewery has a first class honours degree in professional writing, previously worked for Book Start, and was a finalist in a BBC Scriptwriting for Children competition. In June she'll be taking part in a 24 hr open water swim in Lincoln to raise money for Book Aid International. (Find out more about this on her Tumblr.) Kerry lives near the sea and the countryside in Lincolnshire in a house filled with pets, books and films.  When not doing sensible things like writing and reading she likes doing things such as swimming in lakes, running and cycling.  All this exercise is only so she can eat a lot of cake. To find out more about Kerry check her out on Tumblr, Facebook and Twitter. 
Her novels A Brighter Fear and A Dream of Lights are available to purchase on Amazon or in Waterstones and other book stores. 
Welcome to the blog, Kerry, and congratulations on the acquisition of your new novel, Cell 7. To start off the interview could you tell us a little about Cell 7, and what inspired the story?
Thank you so much for having me, Christina. Cell 7 is set in a society where the death penalty hasn't been abolished but has evolved into a system where guilt is decided by public internet and phone votes, overseen by a terrifying reality show – Death is Justice. Teenage Martha Honeydew claims to have killed celebrity millionaire, Jackson Paige, and has been placed in Cell One of death row. There are seven cells, one for each day, and we follow her along the cells as her story unfolds. If found guilty she'll be the first ever teenager executed on death row. But why is she pleading guilty? And what is her relationship to the deceased son?
I think I could dare to call it a fast-paced thriller. It's been a lot of fun to write, actually. It's part in script, part first-person, part third, and pokes a bit of fun at reality shows, while tackling some serious issues about society, justice and the gap between rich and poor.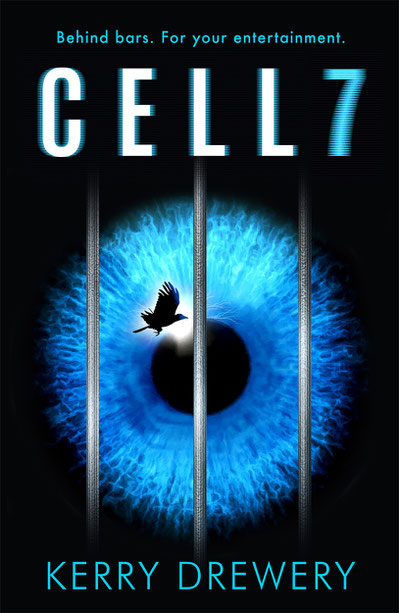 It sounds amazing! Can you tell us what inspired you write it?
The idea for it evolved rather than coming in a lightning bolt.  I wanted to write something about death row – something that's always fascinated me – and I wanted to put a teenager into the situation.  Problem there was that the youngest person ever executed on death row was 23 and in the US!  Also, I didn't particularly want to set it in America.  Around that time I read an essay by historian Liz Homans called 'Swinging Sixties: The Abolition of Capital Punishment' which really made me question and think 'what if', and I wondered 'what if' that decision had gone differently and the death penalty hadn't been abolished at that point in time?  What would've happened?  Would we still have the death penalty now and what would it be like?  Lots of thinking on long dog walks later and it had evolved into the beginnings of Cell 7.
Hot Keys acquired Cell 7 as part of a three-book deal. How did you feel when you found out that they not only wanted this book but two others as well?
Astonished.  Shocked.  Thrilled.  Amazed.  Any, or all, of those!  I've never written a sequel, or a trilogy, before.  It presents its own challenges, but it's also nice to be able to spend longer with characters I've created.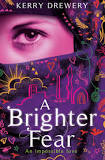 Going back in time to your debut novel, A Brighter Fear. What prompted you to write a story set in war-torn Bagdad?
The idea for A Brighter Fear came from my own need and desire to understand why we were being taken to war, and trying to form my own opinions on it.  I gradually came to think that although what I thought about it, sitting here in my comfortable house, is relevant, what was more important was what the people directly experiencing it thought – the Iraqi people themselves.  I started to research life in Iraq and gradually the novel began to form with Lina struggling to survive the bombing and subsequent occupation of Baghdad, what she thought of the soldiers, what was happening to all her hopes for her future, and how her family were coping.  There's a second narrative about what happened to Lina's mother, who was abducted by Saddam's secret police force, which crosses over into Lina's story as she tries to find out where her mother is.
Moving on to your second book, A Dream of Lights, could you tell the readers a little about the main character, Yoora, and what she has to go through in the course of the story?
Yoora is a teenage girl living in rural North Korea.  At the beginning of the novel she is still very much believing in their Dear Leader, even though her family are near starvation and living what we would probably think of as Medieval, with human faeces used for fertilizer, no heating, no running water.  The conditions are truly dire, then of course, factor in the teachings of the state and it's a very, very difficult situation.  As Yoora begins unravelling the truth, her and her family are sent to a prison camp in the north where conditions are – it's very difficult to know how to explain them briefly – life-threatening, unbearable, inhumane, intolerable.  Very little food, hard labour, torture and cruelty.  Based on fact, it was in many ways, a difficult book to write, and the research brought me to tears more than once.
How do you decide upon character names?
Hmmm…tricky.  Most of the time, it's just what feels right.  Sometimes I do look at meanings of names and try to find things that fit.  The trickiest I think was Yoora, because the majority of North Korean names are double-barrel but I specifically wanted single to keep it simpler to read. 
How much, and what kind of, research did you do for first two your books?
A lot of research, and from all angles.  Researching Iraq was easier than North Korea in some ways as there simply is more out there.  I read books by historians, journalists, one by a US soldier, one by an Iraqi girl blogger called Riverbend.  In fact, for A Brighter Fear, I'd say I used Iraqi blogs a lot to get a feel for how the people were feeling over there.  Newspapers too.  Documentaries.  Everything.
For A Dream of Lights, it was a bit harder but there is stuff to be found if you dig enough.  I found sneaked out video clips on YouTube that someone had filmed while walking around a northern town and on a train – they were very helpful.  The difficult bit of all research seems to be the small details.  Things like school systems are quite easy to find out, but what flowers they have or colour shoes, or types of bed, that sort of thing, is more challenging.  But I think these little details are what can really bring it to life.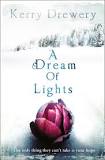 And for your third?
Far less.  I looked into the history of the death penalty and what different methods have been, and are, used and I've 'virtually' walked around some of the real life settings.  When I was first thinking of the idea for Cell 7  I watched a BBC documentary called 'Life on Death Row' which was utterly fascinating, and very helpful in terms of getting the feel and looking at how different people view the death penalty.  There was one particular episode which followed the jury as the trial unfolded and they made their decision – it was both fascinating and terrifying!
Each of your novels has an intriguing title. Why did you choose them?
A Dream of Lights was originally City of Lights, but I decided to change it to a more evocative title.  Oddly, some people have referred to it as City of Lights, even though they didn't know about this.  I messed with a few ideas for Cell 7, but in the end, as the whole story is leading up to that fateful day, it seemed to fit best.
I also noticed that you offer Skype author talks. How does that work in practice?
I offer free twenty minutes skype talks for schools. The schools I've worked with already have studied my books and done work around them, we've then had a chat so they can ask me questions about it.  It's really nice as they get to have a look around my office and ask anything they like, and I get to reach out and speak to readers who I might not otherwise be able to meet. Obviously it can't replace an actual visit, but it's a nice compromise.
You and Emma Pass, another young adult author, initiated and organize UKYA Extravaganzas. How did that come about and can you tell what's involved?
Well, that's a long story! But to cut it short – it basically came around after myself, Emma and author Zoe Marriott did an event at Lincoln Waterstones and we thought – wouldn't it be nice if we could get together with other authors, especially as none of us live near London, where most events and social activities seem to happen.  We started off thinking maybe we could get half a dozen together and it just exploded! At the first in Birmingham we had 33 YA authors, the second in Nottingham we had 28 (there was less space). The feedback was overwhelming, so we're hoping to be able to continue and take it around the country – the next is Newcastle in October. There are many, many authors, readers and bloggers who can't make that trip to London so we're trying to take it to them instead!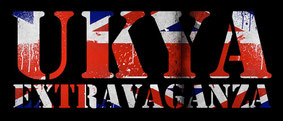 It's such a brillaint idea! And what about the UKMG Extravaganza, what's your involvement with that?
There's a real fantastic movement and excitement in UKMG at the moment (check out MG Strikes Back on twitter), and we wanted to help celebrate that, so it seems obvious to include that age group too. Nottingham was the inaugural UKMG Extravaganza and hopefully at Newcastle we'll be combining the two – but news to follow on that one.
(Nwesflash: since I interviewed Kerry UKYA and UKMG have combined to make the awesome force that is the UKYACX - the UKYA and Children's Extravanganza. Check their Twitter feed for more information.)
Getting back to your writing, Kerry, what was your path to publication?
A long and bumpy road! I've always made up stories, from being as young as I can remember, but I never took it seriously. However, when my youngest son was born my husband worked away and I had huge chunks of time in the evening where I was by myself, so I thought – well, why not? I wrote a novel and sent it off agents but didn't have any luck with it. Then when my son started school, it was either give it a serious go or go back to secretary work again and forget about writing. So I took a chance and went to uni and studied for a degree in Professional Writing and wrote another novel on that. That novel was called 'Office of Imaginary Friends' and was set around a support agency which sent out imaginary friends to adults and children in need. Again I sent that out, but again no joy. After my degree I continued writing and was also working part-time as a Book Start Co-ordinator for Book Trust.  At work one day, one of the parents mentioned a BBC scriptwriting competition to me, so on a whim I changed OFFICE to script and sent it in. Amazingly I was a finalist! However, that's where the journey for OFFICE stopped.  I'd now finished the novel I was working on (which became A Brighter Fear) and finally got an agent who subsequently got me a two book deal with HarperCollins. I'd set myself a deadline – that if I didn't have any joy by the time my son was leaving primary school, then I'd forget the whole thing. I signed my deal with HarperCollins the spring before he left, and that summer the funding was taken from Book Start and my job was defunct. Good timing.
Good timing indeed. Now that your books are in print what are the best and worst parts of your published writer's life?
The best - getting to write, which is what I love most, and the people. The worst - the constant uncertainty of what will happen next with your career. 
So, what one piece of advice would you give to a yet-to-be-published writer?
Everybody says it but – do not give up.
What would you say to someone who has never read a Kerry Drewery book?
Please do.  Please. 
(I echo this: do read Kerry's books. They're wonderful.)
And now let's round off the interview with a bit of quick-fire fun:
Ice skating or roller blades?
Ice skating.  I have some grades but never got to grips properly with a 3-turn.
Night at the movies or cozy night in?
Oooo…both.  On different nights!
French fries or French bread?
Fries!  I don't eat much bread.
Fantasy or reality?
Reality.  Most of the time.
'Fake it till you make it' or unshakeable inner confidence?
I still feel like I'm faking it, but I'd like some inner confidence.
Nachos or veggies sticks?
Nachos.  With cheese and jalapenos.
Published at 14 or published over 40?
Me personally, over 40.
I couldn't start my day without…
Coffee!
Thank you for taking the time out of your busy schedule to answer my questions, Kerry. I wish you continued success with A Dream of Lights and A Brighter Fear and look forward to reading Cell 7 when it's published.