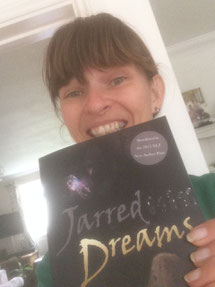 Today it's time to welcome author Camilla Chester to the blog. Camilla and I had a lovely long chat so you might want to fetch yourself a cuppa before settling down to read. However, before the Q&A begins here's what Camilla has to say about herself.
I live in Hertfordshire with my husband and two young daughters. I originally trained as a Primary School Teacher, but have worked mostly in the charitable and voluntary sector. I now run a small dog walking business. I've written children's fiction all my life and use my daily walks with the dogs to imagine and develop plot ideas and characters. I obtained a distinction in the Open University Creative Writing Diploma and play an active part in both an on-line and a local writing group. I believe strongly in the importance of reading for all children; to promote literacy, and open them up to new worlds of imagination and creativity.
Camilla's novel Jarred Dreams is available through her website (Camilla's preferred option), or from Can't Put Down, Troubador Publishing, and Amazon. It can also be obtained on order through Waterstones and other bookstores. To discover more about Camilla check out her website.
Congratulations on the recent publication of Jarred Dreams. What's the book about and what inspired you to write this particular story?
Thank you! The story is about a creepy ghoul who steals children's dreams, storing them in jars in his cellar. A twelve-year old girl comes to live opposite and is resistant to his powers. It is pretty scary, so only recommended for readers aged 9+. I've always been interested in dreams and how weird they can be. I also like the double meaning of the word. I was on holiday with my family and we started chatting about what the world would be like without dreams when the character of the Dream Thief was born. The early drafts were centred more around him and his backstory. The protagonist was created as a deliberate opposite to him in order to brighten it up a bit.
How did you set about getting Jarred Dreams published?
I'd tried, unsuccessfully, to get published before with other books. I entered Jarred Dreams into a competition with The National Literacy Trust. If I won it would've been published with Bloomsbury. When it was shortlisted, but didn't win I tried with several agents. Although I had interest nobody wanted to take it on. Around the same time I was asked to go to my daughter's school to give a talk to the Y6s and I had such a positive response to the book that I started looking into self-publishing. I linked up with another SCWBI member (more about SCBWI later in the interview) who had already done it, took a lot of advice, shopped around, costed it up and then decided to go for it with Matador. It has been excellent. I've had such a great response from readers and it feels like such a buzz that it is out there, being read. I'm still hopeful that I will be traditionally published, but I'm much more realistic about that now. Also I can see it from the publisher's perspective now that I am trying to sell books. It is not easy.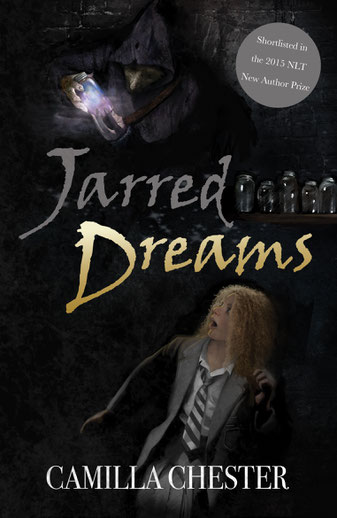 Your book cover is very striking. Who designed it and how much input did you have in its creation?
I love the cover and this is one of the major advantages of self-publishing. I am the boss. I get to say how the book will look and feel like. The moment I had created The Dream Thief, I knew who I wanted to paint him. I have a very talented friend, who paints with oils, called Andrew Hunt. He is a very successful artist but luckily is also a great friend so he gave me 'mates rates'.  He read the book first, then we talked together about what I wanted and what would work. We looked at quite a lot of other covers for the same age group, mainly in the fantasy genre. Andrew sent me the image, which only needed a bit of tweaking, then it went to the production team at Matador.
How did you react when you first opened a box of published books?
There picture of me at the start of this interview is a selfie I took at that very moment! I was absolutely beside myself with excitement. It was like a hundred birthdays and Christmases all rolled into one. I leapt about the kitchen squealing like a pig and hugging all my family and pets, then got straight onto Facebook to tell the world.
How did you feel when you read your first review?
I didn't know the person who did my first review personally, but I had heard that she wrote a blog and reviewed books so I gave her a free copy. I was pretty nervous of what she might think because she doesn't give out those stars easily. I thought a bad first review might just blow the whole thing. Luckily she loved it and made me sound like I actually know what I'm doing! I have got to know her since and we've been planning all kinds of things to promote reading and writing with the local children.
Will there be a sequel to the story? 
No, but that doesn't mean never. I've just not planned one and I'm working on something else. I'm a bit of an ideas person and I think I would get bored if I wrote sequels. I need fresh blood!
You say on your website that you're a planner. Could you expand upon this, please?
I admire people who can write without planning. When I do that I get in a pickle and end up having to do loads of rewriting, sometimes binning things totally and starting on something completely new. I have to know what is going to happen to who and when. If I have a framework I find I can write, if I don't I flounder about and bore myself.  I struggle with endings, mainly because I never stick to my plan. I rewrite the plan depending on how the writing is panning out. None of this answer makes any sense, a bit like my planning!
It makes perfect sense to me! Moving on, I also read on your site that you did a writing course with the Open University. What did you study and what did you learn?
That was probably the most sensible thing I did, as before that I was floundering around thinking I could just write and someone would publish me – very naive. It was a Diploma in Creative Writing and Literacy. The first year was all the nuts and bolts of writing, the second focused on drama writing. I learned that there are a lot of tools and techniques that you can use. I learned how to use the camera to highlight what you wanted the reader to know and I learned how to open myself to critique and critique other people's work.
Was this critique experience why you decides to join your writing groups and become a member of SCBWI? How has your writing changed as a result of all this?
The diploma made me realize that I didn't have to do it on my own. It led to networking and I joined a Facebook based spin-off writing group and then a face-to-face group through the contacts I made with the OU. Being part of a writing community was great and I opened up to feedback much more and became less guarded about my work. I heard about SCBWI through a freelance editor, Davinia Andrew-Lynch, who is now an agent. She helped me with the drafting of Jarred Dreams and told me about the competition too. I can't tell you how wonderful it is being part of SCWBI. I feel so supported and understood and I'm taken seriously. I have a gorgeous SCBWI critique group (Kings Cross Criteratti) who I trust completely. By looking at other people's work it helps me realize what is good and bad about my own writing. I hope that my writing has improved as a result. It is definitely much faster paced now.
I'm with you there on the SCBWI front! So... what's a typical writing day for you?
I wish I had a full day a week to write. My time varies so much. I haven't been able to work on the book I am writing for about two months because of promoting Jarred Dreams. I miss it. When I am writing though, this is how it works. I get the kids off to school, then I walk my dogs (dog walking is my steady income). I eat a late lunch and write until school pick up. I sometimes carry on writing after, until the whining gets so loud that I have to make tea. Very occasionally I will write again later on in the evening, but I'm usually too busy hanging out damp washing or something equally as tedious.
Could you describe your writing space for us?
I write at the kitchen table, looking out onto our postage-sized back garden that backs onto the train station car park, and ignoring the train station announcements and fast speed InterCitys. In the winter I have a writing robin who watches me from the garden fence and I always have my dog (sometimes another dog) snoring around me. It's pleasant, but not ideal. If I have time on the weekends I will write before I get up. I write my best stuff in bed, propped up with my Mac on my knee, still in my PJs, cold cup of tea on the side, ignoring everyone because they are not in the same world as I am.
Do you ever get writers block? If so how do you beat it into submission?
Oh yes! I get it when I reach the tricky stuff, the hard bits of editing and rewriting, or when I get those horrible feelings of crippling self-doubt. I try and put aside time to write but if I'm bad I will do ANYTHING other than write, even clean out the fridge. Yuk. I don't really have a magic pill for it I'm sorry to say. Sometimes I force myself to write, sometimes I just run away for a bit and come back when I'm ready. Funny thing is, it is part of me, I can't not write, if I don't it feels like a puzzle piece is missing.
What do you wish you'd known before your book was published?
That not all my mates would rush out to buy it. I think that is my biggest surprise. Friends who I have known for years and have kids at the right age seem to have no intention of buying the book. I find that astonishing, but then not everyone devours books like I do. While saying that I have had an enormous amount of support from other friends who have bought the book, and from people who came to the launch and those who have told others about me and my work. I really appreciate that. 
What advice would you give to someone who is just starting out on the writing-to-publication journey?
I would say be realistic. You can't just write something and expect it to be published. It is a craft that develops and this happens quicker if you connect with other, more experienced writers and listen to what they say. I have just finished a ten-week writing fiction for children workshop. I feel like I have years and years of learning ahead of me.
I know what you mean! Given all the writing advice you've received what's the one piece that's made the most impact?
Make the ordinary extraordinary.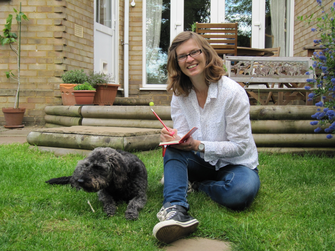 You mentioned your dog earlier. Could you tell us about Stanley (he's so cute!) and why he 'writes' his own blog?
Where to start?! Stanley is supposed to be the family's dog, but he's mine really. Stan has his own voice. If you've ever seen his Youtube video about getting out from under a towel to show his intelligence you will have heard it. I've always just done that Jonnie Morris thing of talking for him to make the kids laugh (sometimes the husband too). The blog was just a way of recording that for future posterity. It's just a laugh really! 'It's not that funny,' says Stan.
Everyone should have a Stanley; loved the video of him and his bone! Dogs do love their food, which brings me to my next question: you mention on your website that you're working on another book, Eats, Can you tell us a bit about this?
Eats! is finished, in as much as a book is ever finished. I entered it into the Chicken House competition, but it didn't get longlisted. I'm sort of scared to look at it again in case I decide I have to rewrite it. It started at 'Pies to Die For' in about 2002, that is why I have to tell myself it is finished! It is about two boys, Larks and Tucker, who win a cooking competition and go to stay at a celebrity chef's house.  There are three caricature chefs that are obscene and ridiculous. The whole book is ridiculous now I come to think about it. The kids seem to love it though. I'm working on a third book at the moment called Thirteenth Wish. It's about a magic bed. If you sleep in the bed on your thirteenth birthday your dream becomes a real world and if you fall out of the bed you get stuck there. Dreams again…obsessed, you see?
Ah yes, but I reckon being obessed in that way is key to being a writer. I'd like to ask you now about visiting schools as an author. What has been your experience of this, so far?
That might be another thing I would tell my pre-published self…don't expect schools to bite your hand off to go see them. I started trying to get into my local schools about two months before my publication date, but the bookings are only happening now. I have done a library visit, though, which was great and I have four planned school visits. I've planned library visits over the summer holidays too and I'm doing school fetes and a local festival event. It is all very exciting. I like being in school with the children. I know it doesn't suit all writers but for me it feels like, 'this is the point of it all.'
A very good point! Now, to round off the interview, let's have a bit of fun:
What's the best dream you've ever had?
Flying dreams are awesome. I love the sensation of being able to launch myself into the air.
Sun lounger or crampon?
Sun lounger
What question would you never answer?
Anything that would embarrass my nearest and dearest.
TV dinner or formal supper?
Either – I like to be flexible!
Calm in a crisis or drama queen?
Generally I flap about, I'm afraid.
Bowl of cherries or box of chocolates?
Both – ideally at the same time.
History or geography?
Geography (although I do love Horrible Histories)
Complete the sentence. If my friends had to describe me they would say that I'm …
Not a bad egg.
Thank you for taking the time out of your busy schedule to answer my questions, Camilla, I wish you lots of success with Jarred Dreams and with all of your books in the future.
Thank you for featuring me, Christina. I appreciate the support. 
PS, folks, Stanley the dog is on Twitter. Why don't you check him out?